JOIN US IN BUILDING AN EVERYONE A CHANGEMAKER WORLD
Everywhere we look, we see the impact of an accelerating rate of change, as around the world and across sectors people find themselves facing increasingly complex societal and environmental challenges. At the same time, we also see the rise of changemakers everywhere, especially young people, who are stepping up to lead and bring forward solutions in new and powerful ways.
 We are working hand-in-hand with these young leaders to ensure that everyone has the skills they need to thrive in our rapidly changing world.
Anyone who steps up to address a problem, big or small, or creates opportunities for the good of all is a changemaker. At Ashoka, we're building a global movement to unleash the power of young people to address the most pressing issues faced by their schools, communities, and beyond. 
Being a changemaker means putting these qualities into action:
All changemaking begins with empathy that moves people to take action.
New Leadership recognizes that everyone can and needs to lead. Changemakers are leaders who empower the people around them to step up and take action.
Changemakers know they can't do it alone. They create dynamic teams to solve problems.
Changemakers move from ideas to real action in a way that is resourceful and entrepreneurial.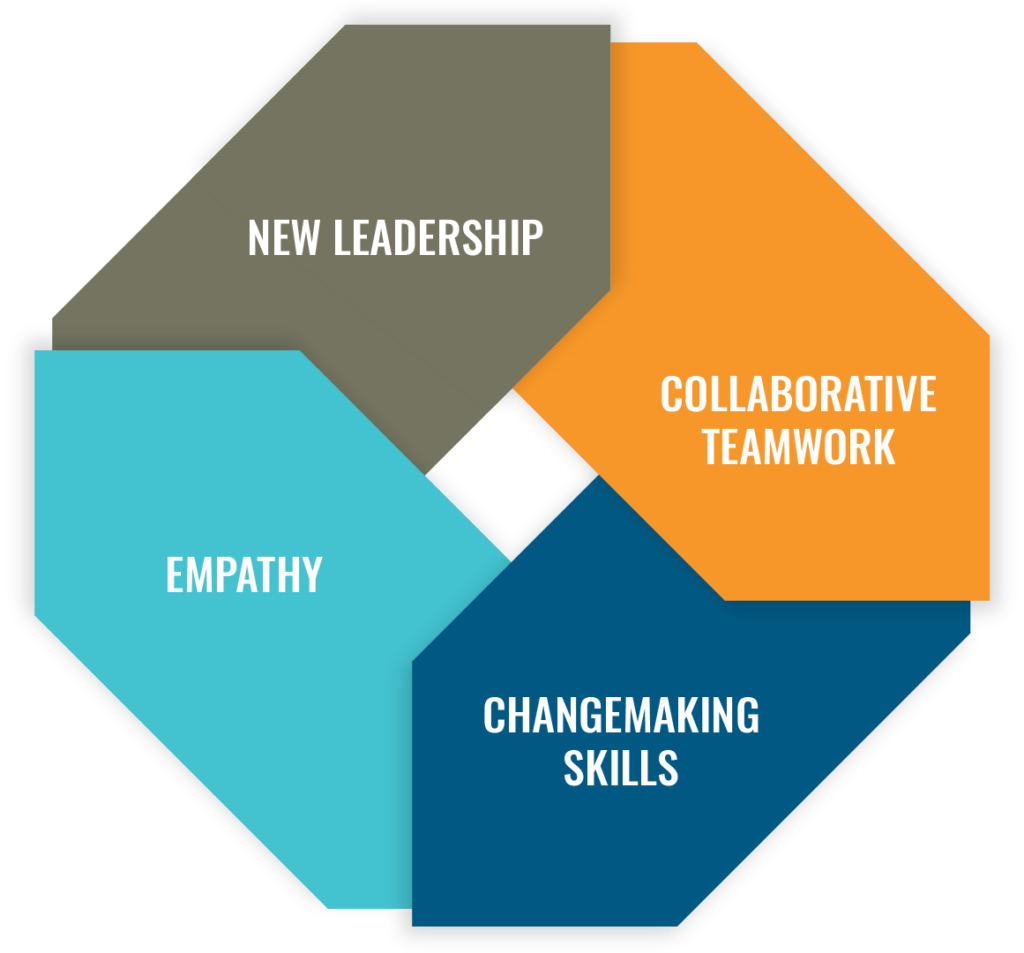 Thriving in today's world requires adapting to and shaping change. Together with our partners, we work to help young people to grow and practice these skills and mindsets, including within the education systems where they spend a significant part of their youth years.
The Changemaker Journey is a map of the common milestones that young people experience as they develop and advance as a changemaker. This journey was created based on interviews with young changemakers from across Ashoka's network. While the Changemaker Journey is not the same for everyone, it can provide a helpful guide for young changemakers and the adults who support them.
Notice problems around you
Identify an issue that sparks deep passion
Gather information to understand the problem
Empathize with those experiencing the problem
Take action with different solutions on a small scale
Mobilize friends and family to join
Receive recognition for your work
Share your story with a wider audience
Apply for funding and support
Take significant action
Build an effective team
Fundraise
Adjust your model for scale
Develop partnerships
Measure impact
Support other young people to be changemakers
Recruit adult allies
Amplify changemaker voices and stories
Ashoka
Young Changemakers
Ashoka Young Changemakers are a carefully selected network of young people who have found their power to create change for the good of all, and who are engaging their peers and the entire society in realizing a world where everyone is a changemaker. If you or someone you know fits this description, consider joining our community of leaders.
ashoka young CHANGEMAKERs
in the U.S.
Check out the videos below to meet a few of our U.S.-based Ashoka Young Changemakers. In addition to creating change in their communities, these young people are co-leading the Everyone a Changemaker movement. 
Ashoka Changemaker Challenges spotlight and support youth around the world through social venture and social innovation competitions run in partnership with organizations such as T-Mobile and General Motors. Through this program, we support the growth of young changemakers, helping them to reach new levels in their social impact projects and to empower their peers to join the Everyone a Changemaker movement.
T-Mobile Changemaking Challenge
T-Mobile Changemaker Challenge: In partnership with T-Mobile, Ashoka selected 30 teams of young changemakers around the US for an all-expenses paid trip to the Changemaker Lab at the T-Mobile Headquarters in Seattle for a two-day workshop to receive mentorship, skill development, and support to get their ideas off the ground. The Grand Prize winners each received $10,000 in seed funding and a second trip back to the Changemaker Lab to supercharge their projects.
Stories of

Young changemakers
Ashoka's storytelling initiative aims to demonstrate the power of a young person who has identified a problem, formed and led a team, and created a solution. These stories help everyone see the new reality — that in a world defined by change we must redefine what "growing up" means. This highlights the new framework for navigating the 21st century: where every person is practicing empathy, teamwork, new leadership, and changemaking.
ashoka young CHANGEMAKERs
across the Globe
Ashoka supports young changemakers from around the world. Check out the videos below to meet Garvita (India), Felipe (Brazil), and Ara (Indonesia) and learn about how they are leading young.